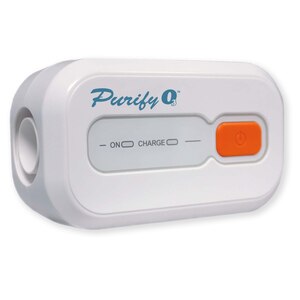 Purify O3 activates with just a touch of a button and automatically shuts off when the disinfection cycle is complete. Purify O3 is third-party verified to disinfect 99.99% of germs and bacteria when used as directed. View more
Purify O3 features a one-touch control to simplify the disinfection process. Simply push to start the cycle, Purify O3 automatically shuts off after disinfection is complete. Easy to read indicator lights make it effortless to understand if the unit is on, has a low battery or when charging is complete. The cordless design eliminates the hassle of overcrowded outlets - charge via USB port or any wall outlet as needed.
​
The standard set-up kit includes a dual purpose sanitizing/storage bag designed to be used for sanitizing masks/tubing and to store the unit when not in use. No additional pre-wash solutions, filters, or replacement bags required.
Included in your package:
INCLUDED IN YOUR PACKAGE:
Purify O3 unit
Dual purpose sanitizing and travel case
Tubing adapter
USB cable and charging adapter
bilingual instruction manual (English and Spanish)
Warranty: 2 years - register at respondo2.com/warranty
FDA Registered